TDLC Researchers Advocate for Science of Learning in Washington DC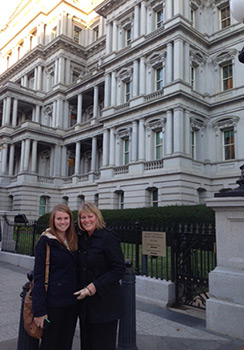 During the week of Society for Neuroscience Annual Meeting in Washington DC this past November, TDLC scientists and trainees met with various elected officials and federal agency leadership to advocate for support for Science of Learning research, training, translation and STEM education and diversity initiatives. As the SLC program sunsets in 2016, we want to encourage elected officials, Congressional committee members, and agency leadership to continue support for this type of research, training and translation programming in the future. The National Science Foundation's initial investment in this group of researchers and students/trainees has grown beyond expectation, has yielded tremendous scientific breakthroughs and benefits, and it is important to continue and build upon this success!

Center Directors Garrision Cottrell, Andrea Chiba and Terry Sejnowski, REU Site Program Trainee Sarah Saturday, TDLC DOT Programs Manager Carmela Arstill and TDLC Executive Director Kim Hutson de Belle met with the White House Office of Science and Technology Policy's Dr. Philip Rubin (SBE Assistant Director) and Dr. Monaco Basco (Neuroscience, Mental Health and Broadening Participation Assistant Director); with various elected officials and their staffers who have oversight on science and education committees including Rep. Scott Peters (CA-D), Rep. Chaka Fattah (PA-D), Rep. Dan Lipinski (IL-D) Sen. Feinstein (CA-D), and Sen. Boxer (CA-D); with the Congressional STEM Education Caucus staff; and with US Dept. of Education/National Center for Education Research/IES Associate Research Scientists Dr. Christina Chhin, Erin Higgins, and Robert Ochsendorf. Special thanks to the amazing UC Washington Center (UCDC) staff – Marjorie Duske (Director of Science and Technology), Christopher Carter (Legislative Director) and Shoshana Derrow (Director of Health and Clinical Affairs)!

Members of Congress are much more likely to support research, training and translation programs and initiatives if they understand how it benefits people, communities, the economy. TDLC follow up advocacy includes spring 2015 meetings in Washington DC and an educational letter writing campaign. Stay tuned on how you can get involved in promoting the benefits of the Science of Learning!

 TDLC Advocacy Documents
TDLC Brochure

TDLC Poster

Research & Training

Student Recruiting

Diversity, Outreach and Translation
---