Face Camp 2014 - Astronauts In Space!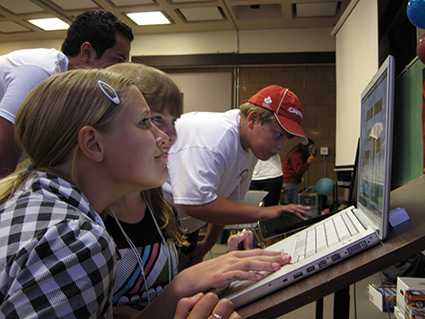 TDLC's Face Camp is an innovative concept that combines educational outreach with basic science. Conducted at the University of Victoria in British Columbia, Face Camp is a free, one day workshop where typically developing and special needs children learn about the "science, art, and fun" of human face recognition. The TDLC camps have been a bona fide success with nearly 1,000 children attending the event over the last seven years. The theme for this year's camp was "astronauts in space." The 120 children had a blast running through the astronaut obstacle course, morphing their face with the face of their favorite alien, completing the Astronaut Training Guide (developed by Jim Tanaka), and staying fit with astronaut movements that will prepare them for future space walks.


While the children had loads of fun at Face Camp, we were able to collect valuable data about the development of face recognition processes. Much of our work is focused on autism because we know that many people with the autism have difficulties recognizing faces and interpreting facial expressions.
For this summer's Face Camp, we studied spontaneous expressions - the natural, automatic expressions that we produce without thinking. For example, when we laugh at a funny joke or cry during a sad movie. In this experiment, we recorded the facial movements of children while they watched funny and surprising video clips. The recordings will be analyzed with a state-of-the-art program in computer expression recognition developed by TDLC's Marni Bartlett and Javier Movellan. We are interested in knowing whether children with autism show the same kind of spontaneous expressions as children who do not have autism. These results will help us design effective interventions in facial emotions.