Face Camp at Arbutus Middle School - March 8th, 2011

On March 8, 2011, the Let's Face It! Outreach Team, coordinated by TDLC PI Dr. Jim Tanaka (from the University of Victoria) planned a half-day Face Camp for students with special learning needs at Arbutus Middle School. The goal of the Face Camp was to emphasize social learning through a variety of activities that help students interpret the social meaning of facial cues. Twenty student volunteers from the University of Victoria and twenty-five middle school students participated. Divided into four colour teams, Arbutus students of all abilities were lead through a series of four social and computer-based activities.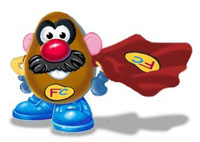 Featured Face Camp Activities at Arbutus Middle School
Morphing. Morphing is always a Face Camp favourite! This year the students morphed their faces with an interesting animal using the Fantamorph software. The students learned to focus on the peculiar facial characteristics of the animals and how they compare with human faces.
Charades. Charades is a great role-playing activity for children to practice social situations and expressions. In this activity, students acted out scenarios, identities, and facial expressions for their group to guess. They were able to act alone or in pairs and it was an interactive way for the volunteers to get to know the students and for the students of different ages to spend time with one another.

Apps Testing. The Let's Face It! Programming Team pilot tested their new computer "apps" with the students at Arbutus. Students participated as beta testers, providing programmers with their feedback on the new intervention games currently under development: Video Scrapbook, Face-Face Revolution, and Smile Maze. Let's Face It! is in collaboration with researchers from the Temporal Dynamics of Learning Center (TDLC) to design interactive computer intervention programs that improve face processing skills of children with autism spectrum disorders. The programs incorporate the Computer Expression Recognition Toolbox (CERT), developed by the Machine Perception Laboratory at the University of California, San Diego (UCSD). CERT was developed to allow the user to receive immediate feedback on their expressions by using real-time expression detection through a webcam. These new LFI! games incorporate the dynamic aspect of face processing by using video clips and real-time expression detection in place of static images.
Video Scrapbook: This new computer app allows the user to record a brief video clip and then organize their collection of video clips in any way they choose! They can use these video clips to create a card memory game, or they can organize their video clips into different folders (i.e. group their video clips according to friends, family, etc.).
Face-Face Revolution: This game is a spin off the popular "Dance Dance Revolution". Users are required to produce the target expressions displayed on the screen and collect points for producing the correct facial expression. Facial expressions in the game are in the form of short dynamic video clips. CERT detects the users facial expressions and provides the user with feedback.
Smile Maze: Smile Maze is an interactive face training exercise that incorporates the active production of facial expressions. Users are required to produce and hold a target expression for varying lengths of time in order to pass obstacles while navigating their way through a maze. Target facial expressions include smiling (for Smile Maze) and frowning (for Angry Maze). CERT allows the game player to interact via real-time video capture and analysis.

The programs were a hit among the students and we received excellent feedback!

Face Off! This game was such a hit at last year's Arbutus Face Camp so we decided to bring it back with a few modifications. In this activity each child wears a headband with an expression, character, or person on it and without knowing what is on the headband they ask yes/no questions to their group and the group provides clues for them to guess!

All in all, the Arbutus Face Camp was a great success! The students learned about the uniqueness of faces while participating in engaging and social activities. We thank Arbutus Middle School for inviting us to host this event and we are grateful for the enthusiastic participation of all volunteers, students and teachers.
Photos from the event:
__________________________________________________
About Let's Face It!
Let's Face It! is a joint project between the University of Victoria Brain and Cognition Lab and the Yale Child Study Centre. The program is a multimedia, computer-based intervention that is designed to teach face processing skills to children with autism. Research has shown that in addition to their difficulties with language and social communication, children with autism may experience difficulties in their ability to recognize facial identity and emotions. The LFI! team's goal is to design, implement, and evaluate science-based interventions in face processing based on research findings in psychology and neuroscience. Their aim is to develop effective treatments that will enhance the face processing skills of children with autism spectrum disorders (ASD) as well as other populations that exhibit impairments in facial processing.
The Let's Face It! (LFI!) program guides the child through a series of engaging, interactive game modules designed to teach basic face processing skills. The games are further described in the Games Guide section on this site. Each module targets some aspect of face processing, such as the recognition of facial emotions, interpretation of eye gaze and eye contact and the recognition of people across changes in facial expression. For further information into the research background and context in which LFI! has been created, please check out the LFI! workbook (see below). The LFI! Workbook was created so that parents, teachers and interventionists can get the most out of the LFI! program. For more information, please go to The Let's Face It! website: http://web.uvic.ca/~letsface/letsfaceit/.