Deriso, D, Susskind, J, Krieger, L, Bartlett MS (2012). Emotion Mirror: A novel intervention for autism based on real-time expression recognition. Lecture Notes in Computer Science, Computer Vision, Vol 7585, Springer, p. 671-674.
Deriso, D., Susskind, J., Tanaka, J., Winkielman, P., Herrington, J., Schultz, R., & Bartlett, M. (2012). Exploring the facial expression perception-production link using real-time automated facial expression recognition. In A Fitzgibbon, S. Lazebnik, P. Perona, Y. Sato, & C. Schmid (Eds), Lecture Notes in Computer Science, Computer Vision - ECCV 2012, Vol 7584, Springer, p. 270-279.
Dovgopoly, A. & Mercado, E., (2013). A connectionist model of category learning by individuals with high-functioning autism spectrum disorder. Cognitive, Affective, and Behavioral Neuroscience, DOI 10.3758/s13415-012-0148-0.
Dykstra, K., Whitehill, J. Salamanca, L., Lee, M., Carini, A., Reilly, J. & Bartlett, M. (2012). Modeling one-on-one tutoring sessions. Proceedings of the 2012 IEEE International Conference on Development and Learning and Epigenetic Robotics (ICDL-EpiRobo), 1-2.
Heim, S., Friedman, J.T., Keil, A., Benasich, A.A (2011). Reduced sensory oscillatory activity during rapid auditory processing as a correlate of language-learning impairment. Journal of Neurolinguistics, Vol. 24, Issue 5, Sept. 2011, Pages 538–555.

Heim, S., Keil, A., Choudhury, N., Thomas Friedman, J.,& Benasich, A.A. (2013). Early gamma oscillations during rapid auditory processing in children with a language-learning impairment: Changes in neural mass activity after training. Neuropsychologia. 51(5):990-1001.
Kantner, J. & Tanaka, J.W. (2012). Experience produces the atypicality bias in object perception, Perception, 41, 556-568.
Klarborg B, Skak Madsen K, Vestergaard M, Skimminge A, Jernigan TL, Baaré WF. Sustained attention is associated with right superior longitudinal fasciculus and superior parietal white matter microstructure in children. Hum Brain Mapp. 2012 Jul 17.
Lindsey, R., Lewis, O., Pashler, H., & Mozer, M. C. (2010). Predicting students' retention of facts from feedback during training. In S. Ohlsson & R. Catrambone (Eds.), Proceedings of the 32nd Annual Conference of the Cognitive Science Society (pp. 2332-2337). Austin, TX: Cognitive Science Society.
Lindsey, R., Mozer, M. C., Cepeda, N. J., & Pashler, H. (2009). Optimizing memory retention with cognitive models. In A. Howes, D. Peebles, & R. Cooper (Eds.), Proceedings of the Ninth International Conference on Cognitive Modeling (ICCM). Manchester, UK.
Meltzoff, A. Kuhl, P. Movellan, J., & Sejnowski, T. (2009). Foundations for a new science of learning, Science, 235,5938, 284-288.
Movellan, J., M. Eckhart, et al. (2009). Sociable robot improves toddler vocabulary skills. Proceedings of the 2009 International Conference on Human Robot Interaction.
Mozer, M. C., Pashler, H., Cepeda, N., Lindsey, R., & Vul, E. (2009). Predicting the optimal spacing of study: A multiscale context model of memory. Advances in Neural Information Processing Systems 22. D.S.Y. Bengio, J. Lafferty, C.K.I. Williams, & A. Culotta. La Jolla, CA: 1321-1329.
Pashler, H., Kang, S.H.K., & Ip, R. (2013). Does multitasking impair studying? Depends on timing. Applied Cognitive Psychology.
Peterson DA, Elliott C, Song DD, Makeig S, Sejnowski TJ, Poizner H (2009) Probabilistic reversal learning is impaired in Parkinson's disease. Neuroscience 163:1092-1101.
Rogowsky, B.A., Papamichalis, P., Villa, L., Heim, S., & Tallal, P. (2013) Neuroplasticity-based cognitive and linguistic skills training improves reading and writing skills in college students. Front. Psychol. 4:137. doi: 10.3389/fpsyg.2013.00137.
Salamanca L, Carini A, Lee M, Dykstra K, Whitehill J, Angus D, Wiles J, Reilly J, and Bartlett, M (2012). Characterizing the Temporal Dynamics of Student-Teacher Discourse. Proc. International Conference on Development and Learning / Epigenetic Robotics, San Diego, CA.
Sejnowski (2010). Learning Optimal Strategies in Complex Environments. PNAS.
Tallal, P. (2012) Improving neural response to sound improves reading. Proceedings of the National Academy of Science. 109(41)16406-16407. Doi 10.1073.
Tallal, P. (2012). Of bats and men. J Neurophysiol September 15, 2012 108:(6) 1545-1547.
Tanaka, J.W., Wolf, J. M., Klaiman, C., Koenig, K., Cockburn, J., Herlihy, L., Brown, C., Stahl, S., Kaiser, M.D., and Schultz, R.T. (2010). Using computerized games to teach face recognition skills to children with autism spectrum disorder: The Let's Face It! program, Journal of Child Psychology & Psychiatry, 51, 944-952.
Tanaka, J.W., Wolf, J.M, Klaiman, C., Koenig, K., Cockburn, J., Herlihy, L., Brown, C., Stahl, S., South, M., McPartland, J., Kaiser, M.D. & Schultz, R.T. (2012) The perception and identification of facial emotions in individuals with Autism Spectrum Disorders using the Let's Face It! emotion skills battery. Journal of Child Psychology and Psychiatry. 53, 1259-1267.
Whitehill, J. (2012) "A Stochastic Optimal Control Perspective on Affect-Sensitive Teaching", Ph.D. dissertation, University of California, San Diego, 2012.
Whitehill, J., Serpell, Z., Foster, A., Lin, Y.C., Pearson, B., Bartlett, M., et al. (2011). Toward an optimal affect-sensitive instructional system of cognitive skills. Proceedings of the IEEE Conference on Computer Vision and Pattern Recognition Workshop on Human Communicative Behavior, (pp. 20 - 25).

Wolf., J.M., Tanaka, J.W., Klaiman, C., Cockburn, J. Herlihy, L., Brown, C., South, M., McPartland, J., Kaiser, M. D., Phillips, R. and Schultz, R. T. (2008). Specific impairment of face processing abilities in children with autism spectrum disorder using the Let's Face It! Skills Battery, Autism Research.
---
Select TDLC Newsletter Articles Related to Outreach and Translation

Translation

UC San Diego's "Simphony" Research Earns Grammy Foundation Support (2013)
John Iversen of the Institute of Neural Computation (INC) at UC San Diego is heading the SIMPHONY Project, one of the first longitudinal studies of its kind on the effects of musical training on brain development. SIMPHONY is being done in collaboration with TDLC researcher Dr. Terry Jernigan of the Center for Human Development. More

---


Computer-Based Cognitive and Literacy Skills Training Improves Students' Writing Skills
B. Rogowsky, P. Papamichalis, P., L. Villa, S. Heim, P. Tallal (2013)
A study conducted at Rutgers University finds that cognitive and literacy skills training improves college students'
basic writing skills. More

---

Gamelan and SIMPHONY Projects in BBC News Online (March 5, 2013)
Power of Art: Can music help treat children with attention disorders?
What is the effect of music on the brain?
A growing body of research delves into this question, made possible by new imaging technology that allows scientists to determine how different areas of brain function are connected. An example of this new focus on music and the brain is the Gamelan Project, led by TDLC investigator Alexander Khalil. The study, funded by the National Science Foundation, suggests that learning to play a musical instrument can improve our ability to focus attention. Working with children at the Museum School in San Diego, Alex Khalil monitors the children's ability to hit the beat precisely using a musical instrument called the Gamelan. He then analyzes the data using a mathematical algorithm to determine their accuracy. "So far, we've found a correlation between their ability to synchronise and their performance on cognitive tests."
In another study on music and the brain, John Iversen of the Institute of Neural Computation (INC) at UC San Diego is heading the SIMPHONY Project, one of the first longitudinal studies of its kind on the effects of musical training on brain development. SIMPHONY is being done in collaboration with TDLC researcher Dr. Terry Jernigan of the Center for Human Development. John Iversen explains, "To really understand whether it's music making these brain changes, you have to study someone as they begin to learn music and as they continue learning music. Then you can see how their brain develops and compare that with children not doing music." TDLC investigator Paula Tallal adds, "We know from multiple studies that children who have musical training do better at school ... We're interested in why that occurs. What neural mechanisms are being driven by musical experience and how do they interact with other abilities." It could take years before study results are known, but the results could have far-reaching implications. Read the article

---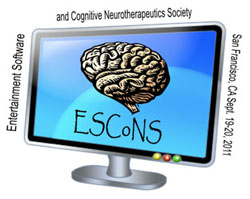 TDLC and ESCoNS (September 2011)
TDLC member Beth Rogowsky, a Post Doc at Rutgers University, recently won the People's Choice Award for a poster she presented at the ESCoNS (Entertainment Software and Cognitive Neurotherapeutics Society) conference in September 2011. The study found that 6th grade students, whose standard language arts curriculum was supplemented with CBI training Fast ForWord, showed a statistically significant improvement in their writing skills than the control group who received standard language arts curriculum alone.
Having a background as a middle school teacher for fourteen years, with an MS in Instructional Technology, Beth Rogowsky is thrilled about ESCoNS. The newly formed organization allows researchers like herself, from around the world, to come together to study how the brain changes in response to computerized training. After finding out about the society from Paula Tallal, she remembers thinking, "FINALLY! Gaming, computer-science and education unite!" More

---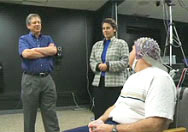 ASK THE SCIENTIST ( Featured Scientist: Virginia deSa, Ph.D.)
What is the Brain Computer Interface (BCI), and how are you using it to help Parkinson's Disease patients?
The Brain Computer Interface (BCI) is a technology that links thoughts, commands and emotions from the brain to computers, using EEG. With BCI, a computer reads brain activity and sends signals to an external device like a wheelchair or robot to execute an action. While researchers are using the BCI to create exciting gadgets like mind-dialed cell phones and a cap to alert nodding-off air traffic controllers, the new technology could also have a big effect on medicine.
Three teams of researchers here at UC San Diego -- Scott Makeig and Tzyy-Ping Jung at the Swartz Center for Computational Neuroscience (SCCN), Howard Poizner at the Institute for Neural Computation (INC), and Virginia deSa -- are pioneering this new field. For example, our lab at the Institute for Neural Computation (INC) hopes to use the BCI to better understanding timing and to help Parkinson's Disease patients walk. Parkinson's patients are known to heavily rely on external visual or auditory cues in order to guide their movement. So they may be unable to initiate a movement. But if you put chalk marks down on the floor, they can see where to place their feet and they can begin to move.
We hope to use the BCI to read Parkinson's patients' motor cortex thoughts, about how they want to move and what direction. Using EEG, we want to detect whether they are about to have a gate freezing episode, and then present visual and/or auditory cues that would help them overcome that freezing of gate. The ultimate goal is to develop a portable EEG device that would help prevent their legs from freezing in the first place. Sensors could be embedded in a baseball cap or a headband, and virtual reality glasses would display visual images to guide the patient. Emerging technology could help retrain the brain.
We're not reading people's thoughts as they're thinking about Shakespeare's lines. That's a long way off. But reading their motor cortex thoughts, about how they want to move and what direction, that's very doable. For more information about BCI, please click here.


---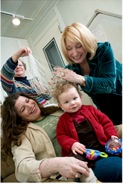 Early Interventions: Baby Brains May Signal Later Language Problem (2011)
April Benasich
Research by TDLC investigator April Benasich and team suggests that the way infants only a few months old process sound in their brains is highly predictive of later language development in normally developing children as well as children at risk for language disorders. More

---

Partnership between UC San Diego, The Neurosciences Institute, and the San Diego Youth Symphony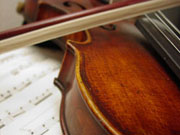 TDLC researcher Terry Jernigan is involved in a newly developing study to explore the impact of musical/symphonic training on cognitive and brain development in children in Chula Vista elementary schools. The study involves a new partnership between The Neurosciences Institute (represented by Aniruddh Patel and John Iversen), The San Diego Youth Symphony (led by Dalouge Smith), and UC San Diego (TDLC's Terry Jernigan at the Center for Human Development). The team is especially interested in how musical training impacts the development of language, attention, and executive function, and the brain networks that support these abilities. The researchers, who are currently looking into possible funding sources, are currently doing pilot studies in two Chula Vista elementary schools, with children primarily learning string instruments (e.g., violin). The team plans to use behavioral cognitive tests and structural brain imaging.


---

TDLC's Jim Tanaka is featured on CNN Health (link from CNN home page):
With autism, no longer invisible (CNN Health)
The article highlights the work of Jim Tanaka and Joseph Sheppard, directors of the Centre for Autism Research, Technology and Education (CARTe), which launched officially in November 2011. The center, located at the University of Victoria, uses technology like FaceMaze to help people with autism. More

---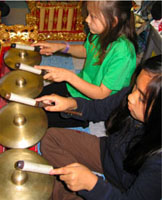 The Gamelan Project: The ability of a child to synchronize correlates with attentional performance (2011)
The gamelan project pilot study demonstrates that the ability of a child to synchronize with an external source in a group setting correlates significantly with established measures of attentional performance. More

---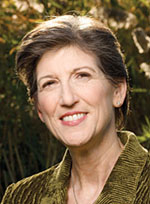 TDLC's Paula Tallal is interviewed on BAM! Inside The Minds of Teens with Dr. Regina Lamourell:
Is Your Child Struggling with Literacy?
This article discusses how the problem of literacy is something "beyond a lack of finances or a lack of will ... It is a lack of understanding of fundamentally what it takes from the perspective of how the brain works, to become a good reader." Improvement requires a new understanding of interventions and approaches of getting these interventions to children who need them. The interview also focuses on the language and reading weaknesses of incarcerated youth. More

---

TDLC Collaboration: Let's Face It! and CERT (2011)
Research shows that children with autism have problems recognizing faces and understanding facial expressions. TDLC investigator Jim Tanaka and his team at the University of Victoria, British Columbia, have developed the The Let's Face It! (LFI!) program to help autistic children with face processing. The curriculum combines the latest scientific research and advances in computer technology. Now, the LFI! project is collaborating with TDLC investigator Marni Bartlett and her team to integrate the Let's Face It! (LFI!) program with UCSD's Computer Expression Recognition Toolbox (CERT). Please click here for more info about thecollaboration.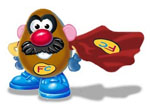 LFI! at Lochside Elementary School & Arbutus Middle School - 2011
During the week of April 11th-15th, the Let's Face It! programming and outreach team travelled to Lochside Elementary School (Victoria, B.C, Canada) to demo their new LFI! games as part of autism awareness week. A month earlier, on March 8, 2011, the Let's Face It! Outreach Team, coordinated by TDLC PI Dr. Jim Tanaka (from the University of Victoria) planned a half-day Face Camp for students with special learning needs at Arbutus Middle School. The goal of the Face Camp was to emphasize social learning through a variety of activities that help students interpret the social meaning of facial cues. More

---

ASK THE SCIENTIST: Featured Scientist: Marian Bartlett
TDLC Center Co-Director, Associate Research Professor, Institute for Neural Computation, and Director, Machine Perception Lab, UCSD
What is CERT and how can it be applied to basic research in human behavior, education, and medicine?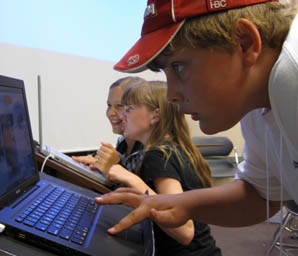 CERT, or Computer Expression Recognition Toolbox, is a software package for automatically detecting facial expressions. CERT was developed at UC San Diego, originating from a collaboration between Ekman and Sejnowski (Bartlett et al., 1996, 1999, 2006; Donato et al., 1999; Littlewort et al., 2006). The software performs real-time expression detection via web-cam input, and can automatically detect and code such expressions as anger, disgust, fear, joy, sadness, surprise, contempt, head pose, and 30 facial action units from the Facial Action Coding System. Automatic facial expression recognition tools such as CERT are beginning to bring about paradigmatic shifts in a number of fields by making facial expression more accessible as a behavioral measure. More

---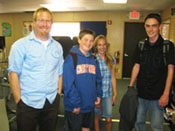 FROM LAB TO CLASSROOM
The goal of gaining increased knowledge of how the brain learns and translating the scientific understanding into the classroom is a major tenet of TDLC, and just now the Social Interaction Network's Terry Jernigan is helping develop a more complete model of brain development and its role in education. The research project comes out of partnership with San Diego's High Tech Middle School in San Marcos and combines brain imaging with behavioral assessment and training of 40 student volunteers to track social/emotional functions – the mental processes that take the longest time for humans to develop. More

---
Outreach Newsletter Articles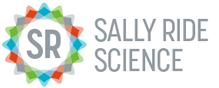 Sally Ride Science officially joins TDLC as a corporate partner
America's first woman in space, Sally Ride, has founded a science education company called Sally Ride Science, to engage and inspire students in science, technology, engineering, and math (STEM) fields. The company "brings science to life through pioneering professional development, instructional solutions, and real-science investigations for students in 4th-8th grades" Bill Jenkins has moved from his position at Scientific Learning, one of TDLC's corporate partners, to a position at Sally Ride Science, and is excited about the future opportunities a partnership with TDLC can create.


---
Autism's Own Conference: Celebrating World Autism Awareness Day, April 2, 2013

The Autism's Own Conference was founded by the local autism community, along with support by University of Victoria's Centre for Autism Research, Technology, and Education (CARTE). The Centre is supported by TDLC funds and directed by TDLC's Jim Tanaka.
Along with dynamic talks, poetry, dance, live piano, and a theatrical performance -- all by persons with autism -- the dynamic event featured demonstrations of CARTE's newest autism intervention technologies (including a demo of TDLC's Marni Bartlett and the CERT programs). It also featured an online display of Autism's Own Journal, a UVic peer-reviewed journal featuring topics about autism by writers with autism. For more information:
Autism's Own Conference

| CARTE newsletter, "Different Minds"

| Autism's Own Journal

---
TDLC Celebrates Brain Awareness Week with Webinar on March 12, 2013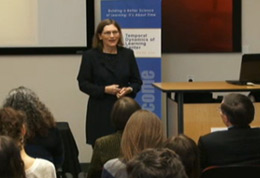 The Educator Network of TDLC presented, "How to Learn More Deeply and Creatively: Concrete Tools from Neuroscience and from Zombies," with featured speaker Barbara Oakley, renowned Author and Associate Professor in the School of Engineering and Computer Science at the University of Oakland.
This captivating presentation was sponsored by TDLC and TDLC's Educator Network (coordinated by Doris Alvarez) in celebration of Brain Awareness Week (BAW) -- the global campaign to increase public awareness of the progress and benefits of brain research. Over 215 people registered for the Webinar, with 150 attending in person. The audience consisted of TDLC researchers and over 75 high school students and their teachers. The Webinar streamed to over 100 participants from states such as Colorado and New York, and to countries as far away as Poland, Canada, Australia, and Portugual.
Barbara Oakley captivated the packed auditorium with her discussion of the brain and different ways of thinking about thinking. She discussed the two modes of thinking: Focused mode and diffuse mode. Based on the latest scientific research about how the brain learns, she shared strategies on how to solve problems, improve test-taking, combat procrastination, and better learn and retain information. The presentation was followed by a Distinguished TDLC Scientists Panel with Andrea Chiba, Terry Sejnowski, and Paula Tallal.  Click here for a summary of the presentation

Watch the Webinar Recording

---

Making San Diego a Hub for Developmental Cognitive Neuroscience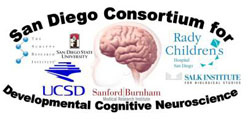 A group of neuroscientists recently gathered for the Inaugural Symposium for the San Diego Consortium for Developmental Cognitive Neuroscience on November 29, 2012.
The event, co-sponsored by TDLC, along with UCSD Deptartments of Neurosciences and Psychiatry, was planned to kick off a newly created group -- The San Diego Consortium for Developmental Cognitive Neuroscience. The inaugural meeting was co-organized and moderated by TDLC's Dr. Paula Tallal. The distinguished speakers included TDLC's Rusty Gage, Andrea Chiba, Tim Brown and Terry Sejnowski, who spoke to a standing room only audience. The inaugural symposium and poster session attracted over 150 participants from San Diego's academic institutions as well as industry demonstrating the broad interest in the topic of developmental cognitive neuroscience.
View the event website

---

UCSD's Center for Human Development (CHD) receives NICHD grant to create a new "Innovative Research Hub"
TDLC seed money partially-funded the pilot work

The National Institute of Child Health & Human Development (NICHD) recently issued a Request for Proposals to establish new Learning Disabilities "Innovative Research Hubs" focusing on understudied populations or issues. UCSD's Center for Human Development (CHD) responded and were awarded funding for a new Hub focusing initially on high risk for mathematics failure. This is especially exciting because TDLC "seeded" the grant by funding some of the pilot work that was featured in CHD's proposal to NICHD. More

---
Reach for Tomorrow 2012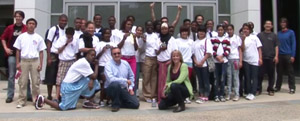 TDLC has a longstanding commitment to K-12 education, with well-established outreach efforts directed towards educators, students, and parents. The Center takes particular pride in working with communities underrepresented in the STEM fields (Science, Technology, Engineering, and Mathematics). Not only are these students less likely to have access to the resources necessary to fulfill their academic goals, but they are more likely, under the circumstances, to have lower expectations, and often by the time they reach middle school, these youngsters have abandoned their dreams and have surrendered to the notion that a post-secondary education just isn't in the cards for them. This doesn't necessarily mean that these students aren't optimistic about their futures, but that they expect a little less of themselves. To reach out to these students, TDLC partners with groups and organizations that have a well established track record in K-12 outreach. More

---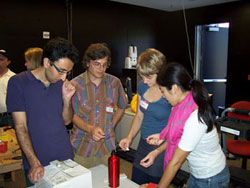 Summer Fellows Institute (SFI) 2012 (also occurred as "Boot Camp" in 2009)

With well over 100 Center trainees (students and postdoctoral scholars advised and mentored by our investigators), TDLC is committed to advancing their careers by providing resources for research, including project funding and assembling an extensive network of colleagues with whom to collaborate. However, for those among them seeking formal training in TDLC's primary research areas, there is the Summer Fellows Institute (SFI). The SFI (affectionately referred to as "bootcamp") is a unique, full-time two-week program hosted by the Center on the campus of UC San Diego. Held August 6 - 18, the SFI offered instruction to 19 trainees from TDLC and two other NSF Science of Learning Centers: the Spatial Intelligence and Learning Center and the Visual Language and Visual Learning Center. More

---


Colorado Distinguished Educator Panel Held First Meeting (2012
Colorado's Distinguished Educator Advisory Panel (DEAP) met for their inaugural meeting on September 29 at the University of Colorado Boulder. Michael Mozer hosted the group and Gary Cottrell and Andrea Chiba welcomed the group to TDLC via Skype. The present members are educators from the Highlands Ranch and Aurora area but other educators from other districts including Boulder Unified will join us in January when we meet for our second event. More

---

Busy Year for The Educator Network (2012)
It has been a busy and productive year for The Educator Network. The Distinguished Educator Advisory Panel has continued its ongoing joint meetings with the TDLC scientists and the website membership is growing steadily with over 150 scientists, educators and community as members. For a description of the events, which include a Brain Awareness Event and Distinguished Educator Panel meetings, please click here.


---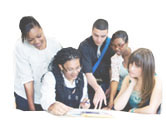 TDLC's REU Program (2010)


TDLC is starting a Research Experience for Undergraduates (REU) Site program at UC San Diego. The grant, recently awarded by the National Science Foundation, will be funded for three years. The purpose of the program is to train undergraduate students in the specific research areas of TDLC, including machine learning, cognitive science, psychology, and neuroscience. More

---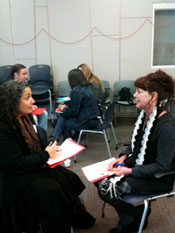 Distinguished Educator Panel - Meet and Mingle with Scientists
Eleven of TDLC's scientists and The Distinguished Educator Advisory Panel met one another in a form of "speed dating" on December 4, 2010. Educators and scientists alike agreed that the opportunity to meet one another in this format was an important step in understanding some of the bridges to be crossed in translational research. Following the pair meetings, two of the panel members who have research going on in their schools discussed their experiences with the process. Finally, Javier Movellan presented his ideas for strengthening educator/scientist interaction. First, he emphasized that scientists need educators, just as educators need scientists. He would like to see a research school operating in the medical model where educators and scientists "cohabitate" and thus truly understand the needs, the constraints and the possibilities of bringing research and education together to improve student outcomes.



---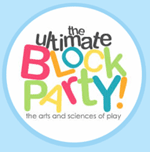 The Ultimate Block Party (Oct. 3, 2010)
TDLC is contributing to an event called The Ultimate Block Party. This is an international event taking place in New York's Central Park, for families, educators and public figures to explore the real power of play with top architects, scientists, engineers, artists and inventors. More

---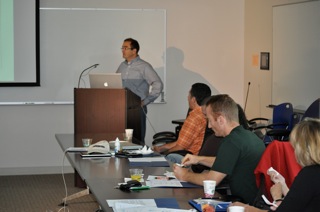 The Distinguished Educator Advisory Panel Meeting of June 5, 2010
The Distinguished Educator Advisory Panel met on 6/5/10 to hear two of our scientists explain their work and how it translates to education. Paula Tallal spoke on literacy and timing. Javier Movellan discussed machine learning and how robots are being programmed to give realistic feedback to students. Also in response to a discussion on rewards in learning, Andrea Chiba gave a quick review of neuroanatomy and the brain's reward system. More

---

Brains 'R' Us
The aim of Brains R Us events was to bring together a highly interactive group of researchers, educators, policy makers, parents and students (the ultimate end-users) to discuss the state of the science of educating from synapse to schoolroom, from neurons to neighborhoods. Brains R Us offered a unique town hall forum for exploring these and other aspects of the educational conversation
Brains R Us: The Education Prize Advisory Meeting (March 22, 2010) > View videos of this event


Brains R Us: The Science of Educating (2008) > View videos of event

---
The Science Network (TSN) is TDLC's premier mechanism for outreach to the public. TSN is a non-profit, web-based organization concerned with science
and its impact on society. In accordance with their mission to "enlarge the constituency of reason," TSN produces web-based interviews and informed programs about science, offering these programs to the public through their website. Roger Bingham, Founder and Director, is an active member of the TDLC and serves on its Executive Committee.
Copyright Notice: These publications have been provided as a means to ensure timely dissemination of scholarly and technical work to the National Science Foundation only. Copyright and all rights therein are maintained by the authors or by other copyright holders, notwithstanding that they have offered their works here electronically. It is understood that all persons copying this information will adhere to the terms and constraints invoked by each author's copyright. These works may not be reposted without the explicit permission of the copyright holder.