OUR MISSION
The mission of the Global Science of Learning and Education Network (GSoLEN) is to achieve maximum worldwide benefit from science-based strategies designed to meet the learning needs of our global future and to overcome poverty's impact on learning. A key next focus will be to deeply understand the Science of Learning (SoL) and the extent to which it can be generalized, thereby developing best practices for learning, education, and policy resources that take into account for whom, at what developmental stage, under what conditions, and in what context SoL can be implemented in the world's distinctive cultures and conditions. Grounded in an environment of trust and co-invention this Global Science of Learning Network will also be fertile ground for training the very best interdisciplinary scientists, technologists, practitioners, and policymakers to lead the innovation of SoL and education while also benefitting students in poverty.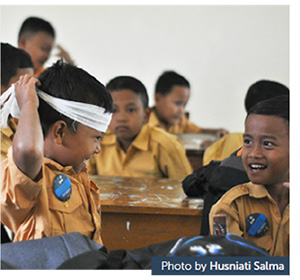 Brief Network Overview
Last March, 1.5 billion students and 66 million teachers were suddenly torn out of their classrooms. In a GSoLEN videoconference, the OECD's Andreas Schleicher noted the responses---differing and similar--- in each part of the world created a global laboratory for observing what was working and developing approaches for transforming education as the pandemic receded. With vaccines now being administered, education and policy leaders across the U.S. and the globe are moving from performing systems triage to planning what learning will look like as in-person classes resume. The GSoLEN network identifies immediate issues critical to equity and emerging from COVID-19, connects experts, and creates working groups to provide science of learning (SoL) applications and strategies that can be adapted in different nations and cultures.
Progress Made by GSoLEN - Expanding Network
During 2020, the GSoLEN network has grown steadily and its 400 members represent a broad cross-section of international scientists, education leaders and practitioners, policy experts, philanthropists, and education technology companies from 26 countries: Argentina, Australia, Austria, Belgium, Brazil, Canada, Chile, China, Denmark, Finland, France, Germany, India, Iran, Israel, Italy, Kenya, Mexico, the Netherlands, Nigeria, Spain, Qatar, Uganda, United Kingdom, United States, and Zaire. Members bring to GSoLEN their own networks that engage in various ways to share and support SoL- informed activities within the network and across the world. The network has formed a 42 member international advisory group and an initial steering committee comprised of leaders from Argentina, Brazil, China, and the United States. With participation from the advisory group, GSoLEN is developing this strategic plan while addressing tactical issues such as global partnerships, communication, fundraising, and topic-focused workin groups. (GSoLEN Progress - continued here)