PAST EVENTS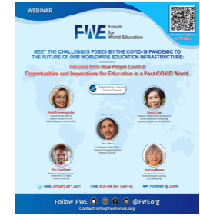 January 26, 2021
Lessons for How People Learn: Opportunities and Imperatives in a Post-COVID World Cohosted by the Global Science of Learning Education Network (GSoLEN) and the Forum for World Education (FWE) - Click here to view a recording of the event
Highlights of 2020 Moving Forward in 2021

November 21, 2020
What We Have Learned From School Disruptions from the Pandemic.
Keynote panel presentation to the World Education Frontiers Forum about lessons learned from COVID school disruption
Andrea Chiba, Ph.D, Winsome Waite, PH.D, and the Hon. Bob Wise.
Recorded video: please click here

September 22, 2020 - event from our community - International Symposium:
Updates on the study of the development of self-regulation, cognitive control, and executive functions - Click here to view the flyer
August 27, 2020 - Global Connections Between COVID, Poverty, and Science of Learning
Recorded video, please click here
Presenter: Sebastian J. Lipina, Ph.D., Director: Unit of Applied Neurobiology, Center for Medical Education and Clinical Research Norberto Quirno (CEMIC), Buenos Aires, Argentina
Slides: Childhood Poverty in Times of COVID-19: Challenges and Opportunities for SoL perspective
Respondent: Elena Pasquinelli, Ph.D., Fondation La Main à la pâte
Slides: Covid-19, the crisis, critical thinking and preparing citizens for a better future
Presenter: Kumar Garg, Managing Partner and Head of Partnerships at Schmidt Futures
Also, updates of collaboration, funding opportunities, and working groups
Moderators: Andrea A Chiba, Co-Director Temporal Dynamic Learning Center and Professor, Cognitive Science; UC San Diego, and Co-Founder, Global Science of Learning Network
Hon. Bob Wise, Coordinator and Co-Founder, Global Science of Learning Education Network
Please contact Shelley Marquez (shelley.marquez@gsolen.org) for more information.

June 18, 2020 - Supporting Teachers Through Global Challenges with the Science of Learning
Cohosting videoconference with UNESCO and International Mind, Brain, and Education Society (IMBES).
May 1, 2020 - Global Science of Learning in this time of great education and economic upheaval (virtual conference)
The Global Science of Learning Design Convening
September 26-27, 2018; W Los Angeles - West Beverly Hills
Click here to view details of the event (Note: this will take you to a different but similar-looking website)
Global Convergence on the Science of Learning
February 8-10, 2018; Alexandria, VA. Click here to view details of the event

Note: The Temporal Dynamics of Learning Center, the National Public Education Support Fund, and the Alliance for Excellent Education were the initial founders of GSoLEN and the convenors of the LA 2018 conference.