TDLC is based on a novel organizational approach: a network of networks, each encouraging multidisciplinary, multi-institutional teamwork to address the three research initiatives. This organization allows for flexible re-positioning in response to new developments without altering the overall structure (see Organization). The four networks of the Center: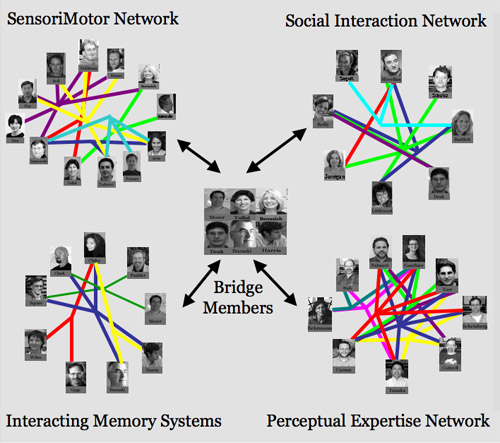 Scientists focus on the timing of interactions among memory systems.
Leader: Andrea Chiba and Robert Clark
Members
: Gyorgy Buzsaki, Jeffrey Elman, Fred Gage, Ken Harris, Michael Mozer, Randy O'Reilly, Hal Pashler, Larry Squire, Janet Wiles
Perceptual Expertise Network Labs
Investigators study the time course of how representations come online in perceptual expertise, such as face processing.
Leaders
: Isabel Gauthier and Tom Palmeri, Department of Psychology, Vanderbilt University.
Members
: Marlene Behrmann, Daniel Bub, Garrison Cottrell, Tim Curran, Robert Schultz, David Sheinberg, Jim Tanaka, Michael Tarr, Angela Yu (Affiliate Member)

PEN Website
Sensory Motor Network Labs
Researchers study the fine temporal dynamics of synaptic learning and motor learning.
Leader: Virginia de Sa
Members
: Dan Feldman, Terrence Sejnowski, Tony Bell, April Benasich, Yang Dan, Virginia de Sa, Eddie Mercado, Paul Munro, Mu-Ming Poo, Paula Tallal (IMSN), Emanuel Todorov
Social Interaction Network Labs
Researchers study how time affects interactions between children and adults in educational settings. Insights on learning may be passed on to RUBI, a social robot that currently teaches numbers, colors and other basic concepts to kids at the UCSD Early Childhood Education Center.
Leader
: Deborah Forster
Members: Gedeon Deak, Terry Jernigan, Scott Makeig, Judy Reilly, Zewelanji Serpell, Paula Tallal (SMN) (IMSN)
Trainee Committee
The trainee committee serves as the interface between the center trainees and the Executive Committee. It facilitates communication within the center and organizes trainee activities.
Chair: Alex Khalil; Faculty Mentor: Isabel Gauthier