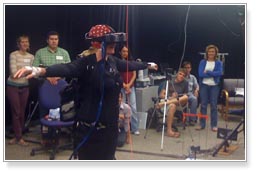 These cross-cutting resources work with multiple, interdisciplinary Networks (see Organization).
Motion Capture/Brain Dynamics Facility
Advanced equipment and software for capturing and analyzing fine-scale temporal actions and interactions. This resource offers state-of-the-art, simultaneous EEG and movement recording for fine scale temporal resolution of brain activity during motor behavior, learning, cognition, and inter-personal interactions.
Director: Howard Poizner, INC, UCSD 


Data Grid
TDLC has a large capacity (15 TB) server on which to store and share its data. Click here
for instructions on how to use the server.
Data Sharing Facility
This resource includes support for management of joint research data, and a state-of-the-art Data Grid provided by the NSF-sponsored San Diego Supercomputer Center. This facility enables data mining and temporal alignment of imaging and spike data from multiple sites. It is expected that the Data Grid will eventually extend to other Science of Learning Centers.
Leader: Reagan Moore, SDSC

Education & Outreach Center
This distributed center coordinates all outreach activities, and works with The Science Network and the UCSD Division of Calit2 to broadcast Town Hall meetings among scientists, policy makers, parents, teachers and the public in order to promote a better understanding of the role time plays in the learning process. "Inreach" also plays a role, as the center brings teachers and administrators to campus for classes that will make the cutting-edge research available for the purpose of updating educational practices in light of new insights into the temporal dynamics of learning.
Leaders: Paula Tallal, Rutgers; Terry Sejnowski, Salk Institute
Outreach Consultants: Andy Porter, Director, Learning Sciences Institute, Vanderbilt University; Roger Bingham, Director, The Science Network and Salk Institute