TDLC researchers teach science through making music, and receives continued support from the National Science Foundation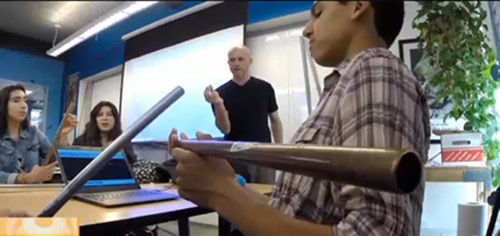 If you live in San Diego and you noticed a surge in metalophonic sounds in your neighborhood, this might be the reason: as part of TDLC's commitment to bring high quality science education to the community, cognitive scientists Victor Minces and Alexander Khalil have been working with K-12 schools to teach science through the science of music. In this program, called Listening to Waves, the students actively learn the science of waves and perception as they create electronic music and build musical instruments.
Within the last year, Listening to Waves has served more than 500 students in diverse communities across San Diego County. Drs. Minces and Khalil's efforts have been recognized by the National Science Foundation, which granted them $1.1 M to expand the program and to assess the potential of this educational approach to boost the youth's interest in science and technology. During the three years duration of the grant (Innovative Technologies for Students and Teachers), the program is expected to serve thousands of students.
Click here to watch a TV report about Listening to Waves!