Researchers at the University of Victoria have developed an innovative model in STEM education blending scientific research with scientific outreach. At their annual summer Face Camp, children are introduced to the psychology and neuroscience of face recognition. Conducted at the University of Victoria in British Columbia, and organized by TDLC's Dr. Jim Tanaka, Face Camp is a free, one day workshop where typically developing and special needs children learn about the "science, art, and fun" of human face recognition.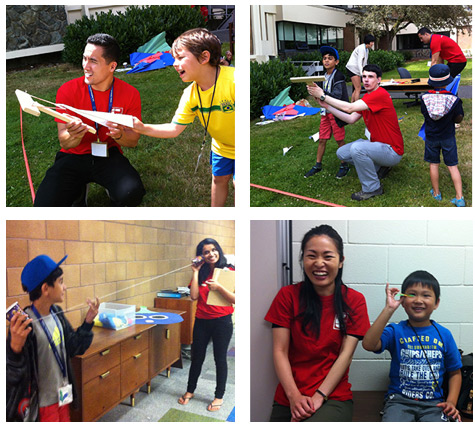 In its ten-year history, over 1200 school-age children, ages six to twelve years, have attended the summer Face Camps. Face Camp is an integrated camp welcoming typically developing children and children with special needs, such as autism and Downs Syndrome. Results from Face Camp studies have yielded important findings regarding the development of brain specialization in face recognition, the role of movement in how we recognize people, the parts of the face are critical to face recognition and how can we improve face recognition for children on the autism spectrum.
Funded by the Temporal Dynamics Learning Center, Face Camp is a one-day event where children try out the newest technologies in face recognition and explore questions such as "how many facial muscles does it take make a smile?," "what happens in your brain when you recognize a familiar face?," and "what makes a face attractive?" At Face Camp, children participate in laboratory experiments in face recognition and thus, learn first- hand about the value of scientific research. Face Camp is free and in addition to the camp activities, children enjoy a pizza lunch and receive a colorful Face Camp t-shirt. The camps are run by a trained staff of over 25 volunteers from the university and community who generously donate their time to work as curriculum planners, counselors and activity leaders.