CARTE Academy for Children on the Autism Spectrum
Outcome: In the fall of 2017, the Centre for Autism Research, Technology, and Education (CARTE) at the University of Victoria launched a new (FREE) monthly series of half-day camps for children on the autism spectrum. CARTE Academy recently received a generous grant of $10,000 from the Ames Family Foundation to support exciting new programs in pottery making and photography.

Impact/benefits: This 3-session format allows the CARTE activity programmers to build progressive lessons in chemistry and biology, rhythm and music, arts and crafts and social-emotion skills. The activities are fun and educational, and in a setting that allows campers a better chance to develop friendships with other campers and camp staff.

Background/Explanation: In 2017, CARTE decided to offer a monthly series of free half-day camps for children on the autism spectrum. The camps are run by CARTE Director Dr. Jim Tanaka from the Department of Psychology and student volunteers who are passionate about learning, playing, community building, and supporting children on the autism spectrum and their families.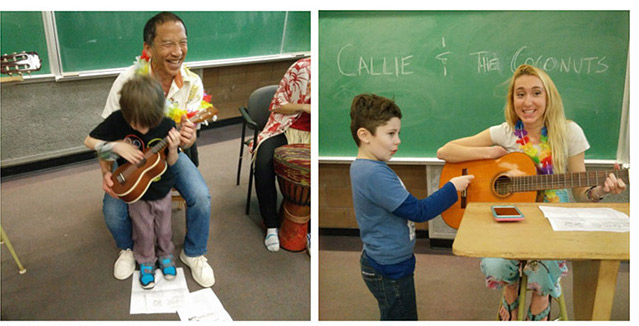 Photos: Dr. Jim Tanaka playing a ukulele with fellow camper; Callie (camp staff) with camper

Additional information about CARTE: http://web.uvic.ca/~carte/