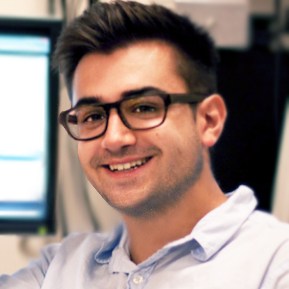 Dave Deriso has been awarded a Marie Curie Fellows scholarship to study at Oxford University as one of 14 research fellows to be trained in a new European Network. The European Community Seventh Framework Initial Training Network "Adaptive Brain Computations" (ABC) is a multi-disciplinary research and training program which aims to integrate the study of learning and brain plasticity to promote wellbeing and advance healthcare interventions. The network takes a multidisciplinary approach, synthesizing methods from brain imaging, behavioral science, physiology, and computational modeling to understand brain plasticity. Involvement in the network provides exciting opportunities for high-level research training, international travel and exchange between labs.


Dave's goal is to study the biological and computational principles underlying plasticity, which allow neurons to update their connectivity within networks to learn as well as recruit healthy neural populations to replace the functions of those lost to disease or injury. Dave became fascinated with the biological aspects of plasticity during a two-year internship in the laboratory of Professor V.S. Ramachandran, where he studied the long-term effects of plasticity observed in phantom limbs and synesthesia. A one-year internship in clinical neurosurgery inspired an interest in the clinical potential of harnessing plasticity to restore function to severed nerves through a relatively new surgical procedure called a nerve-transfer (essentially a nerve transplant), which he was taught to perform on cadavers and published a paper in the Journal of Neurology and Neurosurgery. Last summer, Dave was funded to attend the Cold Spring Harbor summer school on computational neuroscience in Suzhou, China, where he learned to use dynamical systems to model the bistable dynamics of protein computation in determining biochemical cascades that lead to LTP.



At the TDLC, Dave has spent two years working under the mentorship of Dr. Marian Bartlett within the Institute for Neural Computation's Machine Perception Laboratory--some of which was funded by a TDLC REU scholarship. "The REU program was very generous in funding me, and it was great to connect with such bright peers in the program. Its rare to find a mentor like Dr. Bartlett, she has supported me and pushed me to new levels."


In the Machine Perception lab, Dave has been working to develop a video game for autistic children, dubbed the "Emotion Mirror" that targets plasticity in the facial expression production and recognition system. The game uses facial expression recognition technology from the Computer Expression Recognition Toolkit (CERT, available free for academic use) to provide real-time facial expression feedback. Recently, Dave, Dr. Bartlett, and Josh Susskind tested the effects of the Emotion Mirror intervention, and found that healthy college students improved in their ability to perceive facial expressions according to how well they produced expressions using the software. The paper has been submitted to this year's European Conference for Computer Vision (ECCV).


"The Emotion Mirror project has been a tremendous opportunity. Not only have I been able to work with world-class researchers in an interdisciplinary setting, but I have also been given the chance to help children with autism learn to smile."


Dave has independently applied and been awarded two TDLC 'small grants' to study the computational dynamics of learning in the spatial, perceptual, and association domains; and how resting state activity and white matter structure affects learning behavior and systems-level network plasticity. In conjunction with Dr. Howard Poizner and Dr. Mingxiong Huang, Dave was able to collect over ten multi-modal imaging sets that used diffusion tensor imaging (DTI) and magnetoencephalography (MEG). "Its a very tough project." says Dave, "There is still a lot of work ahead and I have to stay humble in my expectations." Though this project is still ongoing, he was invited to speak at this past year's Society for Neuroscience Annual Meeting to present the analysis model and visualization tool he designed for the project.


For his doctoral studies at Oxford, Dave plans to find new ways to implement machine learning and dynamical system models to gain a deeper insight into the computational aspects of network evolution during learning. Dave says of his new laboratory, "the FMRIB is the ideal place to develop this analysis into a more comprehensive computational model of systems-level plasticity."