The Discovery Channel Films in Dr. Poizner's Lab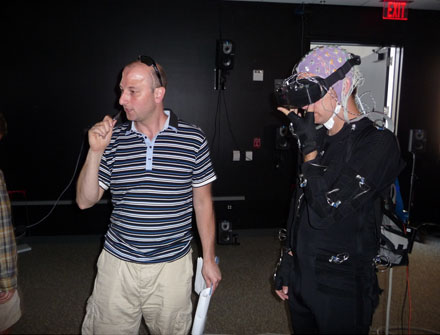 The Discovery Channel filmed Howard Poizner (TDLC Member and SMN Network Leader) and Gary Lynch in Dr. Poizner's lab on June 12, 2010, for a series called 'Curiosity: The Questions of Our Life,' on research of the future. The segment is on memory and will air in 2011. Shown (in photo) on the left is series producer Kyle McCabe, and on the right, series host Dr. Dan Riskin, who is wearing Dr. Poizner's motion capture body suit, EEG cap and virtual reality head-mounted display. Dr. Riskin explored a large-scale virtual environment while his body movements and cortical EEG were simultaneously recorded and his memory monitored.

About Discovery Channel's New Series

"Curiosity: The Questions of Our Life" is a 60-episode, five year series that aims to answer vital questions of human existence. Beginning in January 2011, a new one-hour episode of "Curiosity" will be shown each month. Dr. Poizner's Lab was filmed for the episode that focuses on memory. A recent article in The New York Times states, The channel calls "Curiosity" a landmark series, drawing comparisons to "Planet Earth," the 11-part environmental overview that received wide acclaim when it was shown in the United States in 2007." For more information about "Curiosity" please click here.