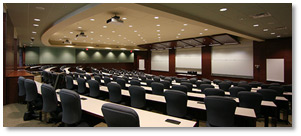 Schedule:  


Fellows Retreat: Thursday, February 26, 3-9 pm


Main Meeting: Friday and Saturday, February 27-28

Theme: "Technology for Learning"

Planned sessions include: Technology Transfer; Learning with Robots; Outreach Technology; and Science, Technology and Math for the Classroom.
We have planned exceptional speakers and ample time for networking with other TDLC researchers.

Every funded project should plan on showing progress through a presentation. This can be in the form of either a poster at the main meeting or a trainee talk at the Fellows Retreat.

Registration Deadlines:
                  > Out of Town TDLC Members:  January 10, 2015
                  > San Diego Local TDLC Members: February 5, 2015



Network members outside of the San Diego area: Select one trainee each to invite to the meeting. Please forward this invitation to your selected trainee. (If you wish to invite more than one you may pay for their travel out of your own research funds or ask your network leaders for support).


If you are coming from out of town, please visit the "Travel and Accommodations" section link in the margin to the left. There you will find information regarding when you are expected to arrive and depart, as well as important instructions on reserving your hotel accommodations and general travel policies.