The Educator Network - Updates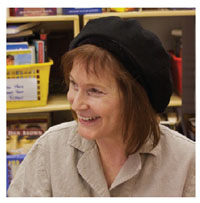 The Distinguished Educator Advisory Panel met in August to continue discussions on what lesson presentations will be included in the new publication that is being developed with Kathleen Cushman, author of Fires in the Mind: What kids can tell us about Motivation and Mastery. TDLC scientists were present for presentations in June and August adding an important element of reflection on lessons presented by the educators. The publication, which is sponsored by MetLife, will feature teacher, student and scientist voices –a unique triangle not often found in lesson review and development. The publication will be available to teachers in the field and could possibly lead to an online course.


On October 22nd Gwen Littlewort will present on "Facial Recognition in Children." In addition, the group will review the next steps for the upcoming meeting in November when we will again meet with Kathleen Cushman to finalize the presentations and hear from those who haven't yet presented.



Continuing plans to extend the educator network concept to other TDLC sites, Doris Alvarez met with John McKinney, a science teacher from Colorado who has been working with the San Diego group. John is recruiting members to be part of a Rocky Mountain Distinguished Educator Advisory Panel patterned after our own group of educators. We hope to involve TDLC scientists from University of Colorado Boulder as well as our own scientists from UCSD. We are targeting early 2012 as a start-up.

- Doris Alvarez