The Educator Network: School year ends on a high note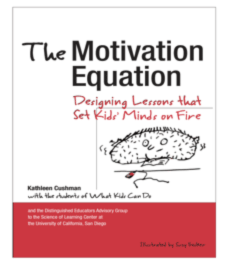 The Educator Network's Distinguished Educator Advisory Panel (DEAP) ended the school year with the notice from author Kathleen Cushman that her e-book featuring members of the San Diego and Boulder DEAP and TDLC scientists will be published this month on howyouthlearn.org. A hard copy will follow in a few months. Titled The Motivation Equation, the book uses classroom lessons from six of the DEAP members and insights from TDLC scientists to help us understand more about the motivation equation and the conditions that young learners need to develop both motivation and mastery. Much of the work with author Cushman took place in the 2011-2012 school year.

In other news: The final school year meeting for the Boulder DEAP took place on May 4. Scientists from the Boulder Computer Science department provided examples of research being done in collaboration with schools in the Boulder area. Professors Debra Goldberg, Nikolaus Correll were there and Professor Tamara Sumner sent graduate students from her lab. TDLC scientist Mike Mozer used the opportunity to seek ideas from the group on optimizing teaching strategies for a new project he is developing. He and Rob Lindsey will continue to work with students from the classes of DEAP member Jeff Shroyer of Mountain View Middle School in Highlands Ranch, Colorado in the next school year.
Finally, the San Diego DEAP group held their end of school year meeting on May 18 with a presentation by Post-Doc Ben Lacar from Salk on "The interaction of Gene Expression and Neuron Susceptibility to Events in Memory Formation." Ben's presentation inspired the group to follow an exercise of mapping a research project toward translation based on David Daniels' six steps toward translation. TDLC scientists Paula Tallal, Andrea Chiba and Javier Movellan participated in the discussion with DEAP members along with graduate students from the Jernigan and Tallal labs. The discussion ended with the group expressing a keen interest in participating in hands -on research projects that involved collaborating with researchers from start to finish. In particular they were interested in developing questions on how new neurons could be built based on the classroom experience and what particular classroom experiences contributed to memory formation. We will continue this discussion at our next meeting in late August or early September.


- Doris Alvarez

Daniel, D. B. (2012). Promising Principles: Translating The Science of Learning to Educational Practice. Journal of Applied Research in Memory and Cognition. 1(4), 251-253.